Red Wedding Cakes Pictures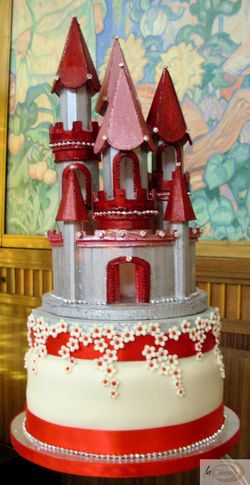 ** These Red Wedding Cakes Pictures may be useful for you to have a good shape of your own red wedding cakes.
**The History Of Red Velvet Cakes
The history of red velvet cake recipes remains unknown. But, this unusual cake has long been a favorite in the South American. Some food historians think it might have originated as a devil's food cake. (wow ....)
This food cakes became very popular in the early 1900s, and it's said that a chemical reaction between the old-style baking sodas and processed coca powders sometimes gave the cake batter a distinctively reddish tinge. And It's believed that some cooks enhanced and encouraged this phenomenon by adding amount of red coloring.
A famous urban legend links the red velvet cake's origin to New York's famous Waldorf-Astoria Hotel, but it can not be proofed, and the hotel persistently denies the alleged connection.
Strangely, I could not find red velvet cake recipes in any of Grandma's old recipe books. They were simply nonexistent. However, I did not find an old recipe for Philadelphia red cake which bears a striking similarity to red velvet cake.
I also found some old-fashioned devil's food cake recipes. Who knows, these vintage cakes might be the forerunners of today's red velvet cakes. You will enjoy trying these classic cakes for yourself. Because they are so delicious!